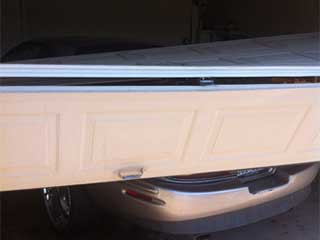 There's nothing more important to a homeowner than keeping their family safe. Like any large piece of machinery, it's vital to treat your overhead door system with caution, and know how to avoid potential accidents. We want to share with you a few useful tips on how to stay safe around your garage door, because we always put safety first.
Keep Remote Controls Out Of Reach
If you've got kids in the house, don't let them open and close your garage door like it was a big toy. Although there are safety sensors fitted to all modern opener models, it's still far too easy for children to hurt themselves accidentally. Make sure that any opener remote controls are kept well out of their reach, and that the wall-mounted switch is installed high enough that they can't get to it.
Educate Your Kids
Following on from the last point, it's a good idea to explain to your children why your residential garage door can be so dangerous. You might think this is an obvious thing, but to someone who's just exploring the world the way children often do, a garage door can seem like a fun mechanical wonder they can't wait to play with. Make sure they understand that only adults are allowed to use it, and that they could get seriously hurt if they try.
Invest In Regular Maintenance
Most common garage door problems occur because of a lack of adequate maintenance. In many cases, components like the rollers and the springs simply wear out, which is something that can be easily caught and fixed in a timely fashion with regular service inspections. In order to avoid accidents and prevent breakdowns, we recommend scheduling maintenance appointments with our team. The various adjustments and tweaks we'll perform will also help your system function better and for a longer period of time.
Always Close The Door Fully
Never allow your door to stop before it reaches the end of its track. This puts the mechanism under tension, since it's still holding the door's weight, which will lead to increased wear. The door can also collapse suddenly if left in this position for too long, which is very dangerous for anyone standing beneath it or nearby. If you want to leave your door open, make sure it's fully retracted into the overhead position.
Know What You Can Work On
There are many ways for homeowners to look after their garage door system; lubrication and inspection are two crucial maintenance tasks that homeowners can do themselves. However, do not be tempted to try and fix problems with the springs, opener or the door itself; it's much safer to contact our professional team at Garage Door Repair Buda for these larger, more dangerous jobs.