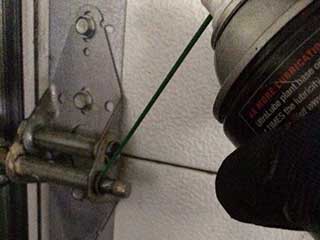 When the moving metal parts aren't properly lubricated, they begin to grind against each other and make awful noises. Additionally, the components get worn-out more quickly as a result of the generated friction. These problems can be avoided with regular lubrication. Usually, this has to be done only twice a year and does not take much time or effort. The benefit will be that your garage door will be able to work quietly and the wear and tear it goes through will be reduced.
Doing Everything Perfectly
The first step is to identify which components need to be lubricated. As a rule of thumb, any metal moving part is probably going to benefit from being applied with some silicone based lubricant. If your door uses torsion springs, then lubricating them is a must. Additionally, the hinges and the rollers (if they aren't nylon coated) are also going to benefit from this type of maintenance. The sections of the cables at the bottom bracket button can also be lubricated, and the same applies to the bearings of the pulleys. If you have a chain drive or a screw drive garage door opener, lubricating the drive is a good idea. The chain can also be adjusted, but that is probably best left to the experts.
The Right Type Of Lubricant
Before starting to spread grease all over your garage door, you need to first select the appropriate lubricant for it. You must consult the owner's manual first. Usually, the manufacturer has a precise recommendation that you should follow. Keep in mind that the opener may require a separate product which has been specially designed for this application. It is worth pointing out that there is no such thing as one size fits all when it comes to lubricants. The major advantage of graphite-based products is that they are not sticky while lithium-based ones do an excellent job in cold weather. Silicone-based lubricants fall somewhere in the middle, and in many cases, light household oil can do a fabulous job, provided that they are suited for your door.
How To Get It Done
The third step is actually lubricating the door. You must clean all the relevant parts thoroughly before performing this task. Components which are severely worn-out, deformed or damaged must be replaced, as lubricating them won't solve the underlying issue and may cause you to think things are fine when they aren't. According to our experts, it is a huge mistake to believe that lubrication can make up for wear and tear and other issues. While it does help to reduce the working strain of the moving parts, it is by no means a proper fix. Once everything is cleaned and ready to be lubricated, you need to apply a thin layer of the product along the entire length of each component and verify that all areas are covered. After this is completed, open and close your door a few times to make sure the lubricant gets into all the proper spots. Doing this on a regular basis will help to extend the longevity of your system and make it function more efficiently. If you discover some part needs to be replaced, give our team at Garage Door Repair Buda a call right away.