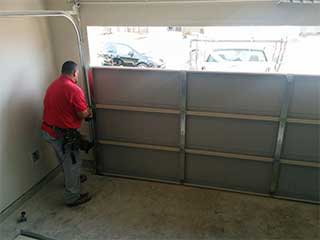 Perhaps the most complicated mechanical part of your entire home is the garage door. This system consists of dozens of different components, like high tension springs, an electric opener, and steel or nylon rollers, all of which can develop different issues and faults over time. It can be very difficult to identify exactly what's gone wrong and why it happened, but our expert technicians have years of experience working with all systems made by all of the leading brands. We can fix anything from a malfunctioning opener to a bent and rusty track.
Replacing Broken Springs
A common problem that homeowners encounter is broken and worn out torsion or extension springs. These heavy-duty components are designed to lift your garage door literally thousands of times before wearing out, but sooner or later, they will eventually need to be replaced. If your springs are showing signs of weakening, or they've actually broken, our team will quickly replace them with new units. Our technicians will ensure that their tension is properly balanced and check that your door opens smoothly and evenly. Garage door spring replacement is a dangerous task, so you should never try to perform it by yourself.
Fixing Openers Problem
The most complex part of the overhead door system is the opener, which is responsible for moving the door each time it's used and making sure it doesn't hit anyone or anything. Whether you have a chain drive, a screw drive, or a belt drive opener, our technicians will be able to quickly diagnose the underlying cause of your issue and solve it. This could be a faulty circuit board or a broken motor gear, to mention a few possible culprits. If your door starts to reverse each time you try to close it, misaligned safety sensors may be the cause. Whatever the reason for the malfunction is, you can count on us for assistance.
The Right Team To Call
Whether you're in need of emergency repairs or even some expert maintenance, you won't find a better company than Garage Door Repair Buda. Give us a call today and let our team take care of whatever is causing your door to malfunction. No task is too complicated for our experts.
Need more? We also provide:
Torsion & Extension Spring Adjustment
Belt Drive Garage Door Openers
Broken Spring Replacement & Repair
Emergency Garage Door Services