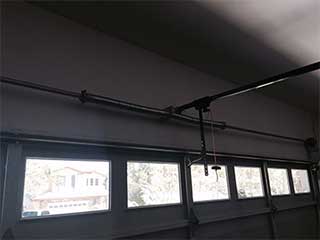 Ensure Your Door Will Work Efficiently
If not for your garage door springs, it wouldn't be going anywhere very easily! It's heavier than it may look and requires a lot of energy to get it moving. That's where the springs come in! They store and then expend the energy required to get your door up off the ground when you need to get going, and it's why it's important to make sure they're taken care of! The primary cause of a door suddenly being unable to budge is due to a broken spring, and that's what we're here to help with or even prevent entirely. Attempting to do it yourself is ill advised, as it could not only worsen the problem overall with your door itself, but it can also be very dangerous. The spring could snap, or the door may even wind up falling down entirely. Don't worry though! Our trained technicians can get everything sorted out for you right away.
Extension Or Torsion
Our team can easily work with either type of spring, but what is the difference between them anyway? While they both create and store up energy in the form of tension, this is achieved in varying ways between the two. Extension springs are pulled out to do so, whereas torsion springs are twisted. It may not seem like much of a difference, but unfortunately extension springs wear down faster from being stretched out and will need to be tended to more often than torsion springs. So, it's important to know which you have!
We'll Tend To Everything For You
From getting a broken or fairly worn-down spring replaced, or simply adjusting them, our experts will be able to fix up any problems with your garage door's springs before you know it. We'll even check all the springs overall to ensure they're in good shape for use, and test to confirm that your door is working perfectly.
Why Wait Any Longer?
Call Garage Door Repair Buda today and we'll handle it all.
Count on our team for:
Garage Door Opener Maintenance
Overhead Door Repair & Installation
Garage Door Cable Replacement
Part Replacement & Repair