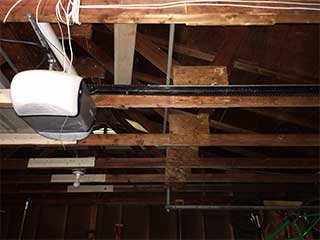 Most of your overhead door system is purely mechanical, and consists of pulleys, cables, rollers and, of course, springs. All the electrical parts (the sensors being an exception) are usually housed inside the opener. Combine that with a motor gear and a drive system that are meant to generate the required horsepower and pull or push the door, and you've got the most complicated part of the entire system. Therefore, it's no surprise that there are plenty of problems that can rise up. Our technicians have a lot of experience fixing both screw drive and belt drive opener models, and we can handle any type of issue these complex devices may suffer from.
Fast And Effective Repair Services
If your garage door opener fails to work properly it can make life very inconvenient for you, and it's important to address any potential problems before they cause an accident. If your opener is making a lot of noise, or isn't working smoothly, our technicians can help. We'll trace the "symptoms" back to the root cause, whether that's a remote that needs reprogramming, a burnt-out fuse or a safety sensor that need to be realigned. We'll provide a solution that keeps your door working smoothly and reliably. We can also replace the motor gear if it becomes too worn, or adjust the chain drive to make sure it has no trouble opening and closing the door.
Installing New Models
We don't just repair openers, we install them too. We work with major brands like LiftMaster, Chamberlain and Genie, bringing our customers the best quality the industry has to offer. Our technicians will guide you through the process of choosing the best model for your home, and will install it to the highest professional standards.
Regular Maintenance Appointments
All good garage door openers are built to last, but they require regular servicing to reach their maximum potential. Our will make sure the interior components are in a good condition and lubricate the drive to ensure smooth operation. We'll also test the safety sensors to make sure the system is safe to use, and realign them if that prove to be necessary.
Give Us A Call Today
If your opener needs to be repaired, or if you're looking to get a new one model installed, our team can help. Contact Garage Door Repair Buda today and let our technicians take care of whatever you need.
But wait, there's more! We also offer:
Bent Garage Door Track Repair
New Opener Remote Controls
Garage Door Cable & Track Repairs
Garage Door Troubleshooting Services