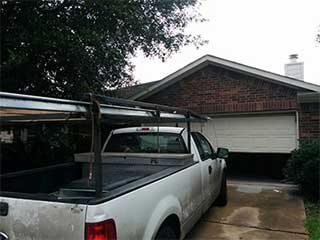 There are a lot of different issues that your garage door system can experience. Every complex mechanism that relies on many working parts and operates under a lot of tension is bound to break down once in a while. A lot of problems can be avoided, however, if you make sure to have your door serviced by professionals on a regular basis. Our team can ensure that everything is in peak condition, and anything that's not, will get fixed or replaced right away.
Don't Let Your Door Spring Things On You
Lame puns aside, garage door springs are incredibly important, as without them, you or your opener would have to support the full weight of the panels each time the door needed to move. Since the role of these components puts them under a lot of tension, they need to be regularly inspected and maintained in order to stay in a good working condition. Our technicians will check their coils for deformations, lubricate them and adjust their tension as necessary to keep them silent and efficient.
The Opener Needs Some Service As Well
The device that powers the automatic operation of your door is not without its faults. Its motor gear can wear out and its circuit board can break or malfunction for a variety of reasons. That's why regular opener maintenance is so important. Another key aspect of our service is to test the safety sensor alignment and to make sure that both units are able to detect an obstruction blocking the door's path without any issues.
Checking The Hardware
Of course, without the tracks, rollers and panels, your door wouldn't be much use, so these components all need to be maintained as well. We'll make sure the panels aren't dented or cracking and that the tracks aren't bent or rusty. As for the rollers, they can wear out or even break, so properly lubricating them and replacing them in due time is therefore very important to prevent a situation where the door gets off track or gets stuck.
A Phone Call Away
Let our experts at Garage Door Repair Buda make sure that your system is able to keep functioning problem-free for as long as possible. We'll test, fix, adjust and lubricate every part that can benefit from one or more of the tasks, and your door will be as smooth and efficient as it's ever been. Call us today.
Let our team take care of it for you!
Roll up Garage Door Maintenance
LiftMaster Garage Door Opener Repairs
Galvanized Torsion Spring Installation
Extension & Torsion Spring Replacement